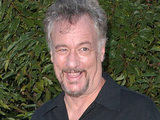 "Q" to Torchwood
John De Lancie has signed up to play a guest role in the new series of Torchwood.

The actor, best known for his role as Q in the Star Trek franchise, will appear in an unspecified role in ten-part series Miracle Day.

"Our friend Q from Star Trek... John De Lancie is part of the Torchwoodfamily!" she wrote. "He's not playing Q [though]! Let's be clear!"
---
BBC Enhances SCI FI in US
On the back of the buzz building for this weekend's premiere of the new Doctor Who season on Saturday, April 23, BBC AMERICA today announced it is co-producing the new season of Being Human and confirmed airdates for two previously announced co-productions, Outcasts and Bedlam. All titles will air in the channel's Supernatural Saturday line up.
---
New STAR TREK Board Game Coming Soon
Star Trek Expeditions, one of the most anticipated Star Trek games in recent memory, will be available starting on June 15 at hobby, game and specialty retailers. Designed by 2002 Gaming Hall of Fame inductee Reiner Knizia, Star Trek Expeditions – from WizKids/NECA -- is a cooperative board game set in the universe of J.J. Abrams' Star Trek (2009) feature film, with one to four players assuming the roles of Kirk, Spock, Dr. McCoy and Uhura, and the players banding together against the game itself.
---
Public Service Announcement:
Talk To Your Kids About STAR WARS
Fathers, there comes a day in which you have to have "the talk." This video could help prepare you for this critical day. Click here to watch.